Skin Rejuvenation
SkinPen® Microneedling Treatment in Oklahoma City
Microneedling has become a highly-requested service in the skincare industry. It is sometimes used as a general skin improvement treatment, rather than to address a specific skin concern. SkinPen® makes incredibly small injuries to the skin in order to stimulate the body's natural wound-healing process. The result is effective remodeling of scar tissue, while minimizing cellular damage and maintaining the general structure of the skin.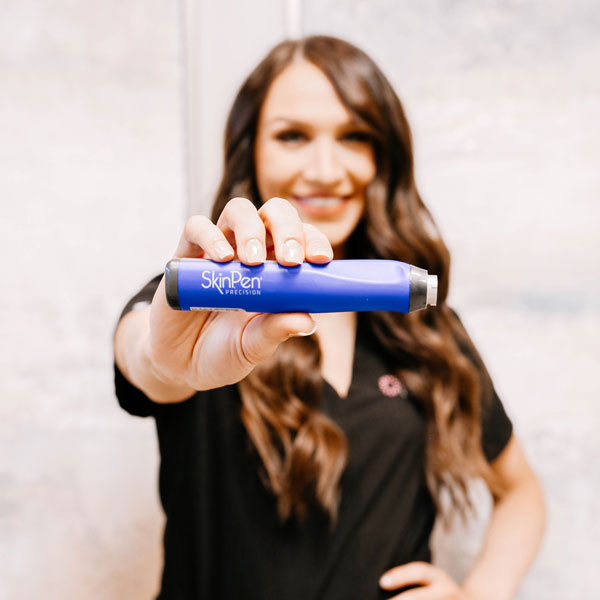 SkinPen® is manufactured by Crown Aesthetics. It is the first microneedling device cleared by the U.S. Food and Drug Administration and clinically proven to safely and effectively treat facial acne scars. SkinPen® triggers your skin 's natural collagen production by penetrating it with tiny needles. The process creates micro-injuries that cause your skin to react by healing the tiny punctures. As a result, your skin looks fresher, tighter, and smoother. This is thanks to your skin's increased collagen and elastin. This process does not cause scar tissue.
SkinPen® is a microneedling treatment that uses your skin's natural healing properties to reduce wrinkles, scarring, and other imperfections. It can be used on any area of your skin. The treatment is quick and painless, taking only thirty minutes and beneficial for any skin type. This treatment can easily be performed on a lunch break and requires no downtime. Unlike some skin treatments, SkinPen® has been clinically proven to be effective on skin tones ranging from light to very dark. In addition, properly monitored and scheduled SkinPen® treatments can be used for years, unlike lasers or chemical peels that can damage skin with long-term use.
Contact Us
Radiance Medical Aesthetics of Oklahoma
Monday: 8:00 AM – 5:00 PM
Tuesday: 10:00 AM – 7:00 PM
Wednesday: 8:00 AM – 5:00 PM
Thursday: 8:00 AM – 5:00 PM
Friday: 8:00 AM – 5:00 PM
3rd Saturday of the Month: 9:00 AM – 1:00 PM