Genius™ RF Microneedling in Oklahoma City
Count On Us for Genius™ RF Microneedling
Radiance Medical Aesthetics of Oklahoma is dedicated to helping our clients achieve healthy and radiant skin. With our advanced skincare treatments, including Genius™ RF Microneedling, we can help you reduce the signs of aging and improve the overall appearance of your skin. Our team of professionals use the latest technology and techniques to provide you with safe and effective treatments. If you're ready to enhance your natural beauty and boost your confidence, schedule an appointment with us today.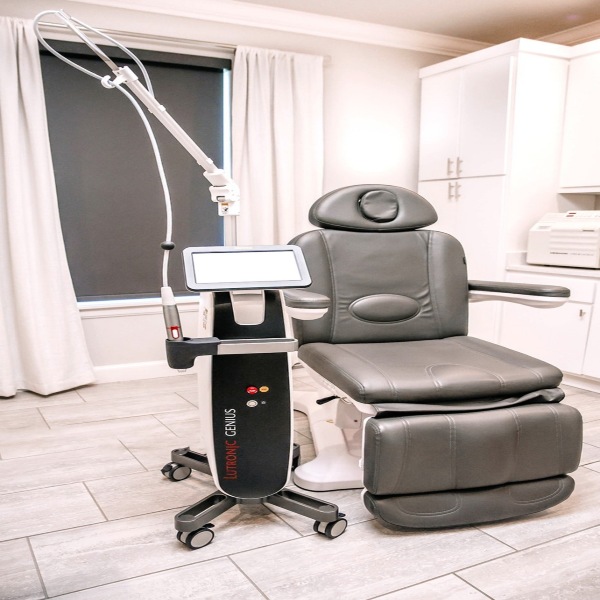 What Is Genius™ RF Microneedling?
Genius™ RF Microneedling is a cosmetic treatment that combines microneedling and radiofrequency energy to improve skin texture, tighten skin, and reduce wrinkles. This treatment uses fine needles to penetrate the skin's surface, creating tiny wounds. Radiofrequency energy then heats the skin's deepest layers to stimulate collagen and elastin production. Unlike other treatments that remove the outermost layers of the skin, Genius™ RF Microneedling leaves the epidermis intact with minimal social downtime. Every Genius treatment is tailored to the patient, based on age, skin type, sun exposure, and the area of the body being treated.
Benefits of Genius RF Microneedling
The benefits of Genius™ RF Microneedling include:

● Reduction of fine lines and wrinkles
● Tightening of sagging skin
● Improvement of acne pitting and other scars
● Softening of uneven skin texture
● Minimization of enlarged pores
● Diminishing the appearance of stretch marks
How Does Genius™ RF Microneedling Work?
Genius™ RF Microneedling uses gold-plated needles to deliver radio-frequency energy, which stimulates the production of collagen and elastin in the body. The treatment provides real-time, intelligent feedback, ensuring that the energy is delivered precisely for each patient, treatment, and microneedle pass. The needles purposely penetrate the skin at three different levels while RF energy heats the tissue to further stimulate collagen production.
Is the Treatment Painful?
Stimulating the body's natural collagen production is a complex process that can often involve some level of discomfort or pain. While many people may be hesitant to undergo such a procedure, it is important to note that the benefits can be significant. To help alleviate any discomfort during the procedure, our experienced team will apply topical numbing agents. This is an important step that helps to ensure that the procedure is as comfortable as possible for the patient. In addition to topical numbing agents, chilled air is also used to further reduce any heat sensation that may occur during the procedure.
How Long Does It Take to Show Results?
Building collagen is a gradual process that requires time and patience. While some initial improvements may be visible within the first month, it usually takes around six months after the last treatment session to see the final Genius™ RF Microneedling results.
Best Genius™ RF Microneedling Treatment in Oklahoma
At Radiance Medical Aesthetics of Oklahoma, we believe that everyone deserves to feel confident and beautiful in their own skin. Our Genius™ RF Microneedling services are just one of the many ways we can help you achieve your aesthetic goals. Our team of experienced professionals is dedicated to providing you with the highest quality care and helping you achieve healthy, youthful-looking skin. Book an appointment with us today and let us help you bring out the radiance in your skin!
Contact Us
Radiance Medical Aesthetics of Oklahoma
Monday: 8:00 AM – 5:00 PM
Tuesday: 10:00 AM – 7:00 PM
Wednesday: 8:00 AM – 5:00 PM
Thursday: 8:00 AM – 5:00 PM
Friday: 8:00 AM – 5:00 PM
3rd Saturday of the Month: 9:00 AM – 1:00 PM