Botox® Injections in Oklahoma City
Injections
Oklahoma's Premier Botox Provider
Radiance Medical Aesthetics is Oklahoma's choice premier medical aesthetics practice serving the Oklahoma City metro area. Our team is experienced and passionate in caring for our clients. We provide many cosmetic services to help you look and feel your best—from laser treatments to Botox injections. Botox, first neurotoxin, has become a household name and is frequently used as a synonym for neurotoxin injections. Botox is a popular, quick, and easy procedure that can address multiple concerns.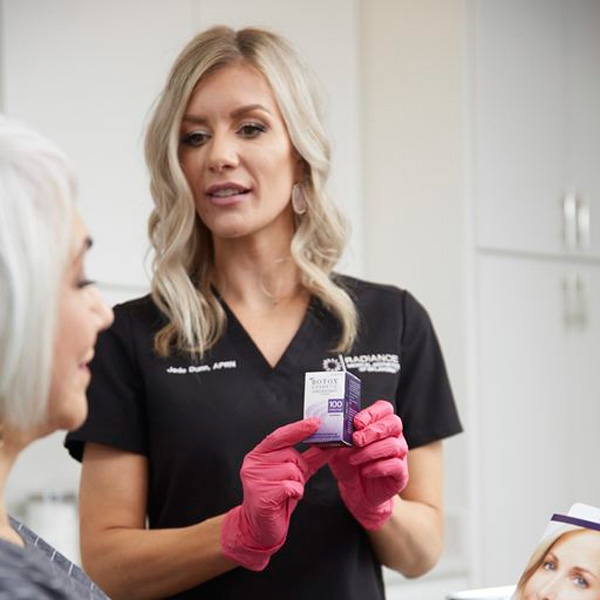 Botox is a neuromodulator. It's a form of botulinum toxin type A. The neurotoxin is administered using an ultra-fine needle. This FDA-approved injectable treatment is used all over the world to treat many medical conditions and reduce the effects of aging. Botox injections both reduce the appearance of current lines and wrinkles, as well as prevent more from forming. If this sounds like the solution you've been seeking, call us today!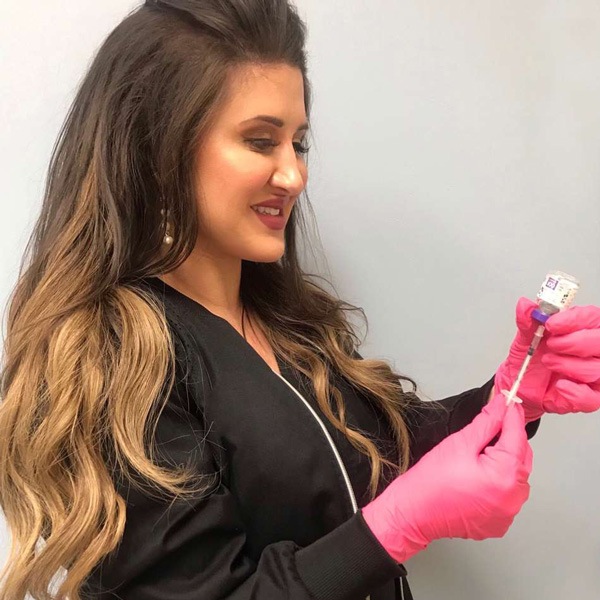 You may be wondering how does Botox work? When Botox is injected into the treatment area, it blocks the nerve signals needed for those muscles to contract. This eliminates the possibly of lines and wrinkles forming because wrinkles are a result of the repetitious contraction of facial muscles used to make expressions. After the neurotoxin has been injected, the muscles relax, and their movement is very limited. This then reduces the appearance of the lines and wrinkles in the area. For example, Botox forehead injections causes the forehead muscles to relax in order to temporarily
eliminate forehead wrinkles
.
The Benefits of Botox for OKC Residents
So, what are the benefits of Botox injections? There are many. The main benefit is reducing wrinkles and sagging. In addition to pausing the signs of aging, Botox can also treat many medical conditions.
Are You a Good Candidate?
Botox injections are a great cosmetic procedure because of how well they work for so many people. If you are healthy and over 18 years old, you could be a great candidate for Botox injections. Any skin type can take advantage of these benefits.
If you want to inquire about whether Botox is right for you, you can book a consultation with our team of experts at Radiance Medical Aesthetics of Oklahoma. There are some health conditions that could reduce the chance of success of Botox. In our assessment, we can identify these conditions so that you have the best chance with Botox.
Botox revolutionized cosmetic procedures as it can be used to treat so many different areas. From lip Botox injections to Botox neck injections, Botox can be used almost anywhere in facial areas. Following are some of the main uses of Botox injections:
• Frown lines
• Forehead lines
• Bunny lines
• Lip lines
• Crow's feet
• Gummy smile
• Lip Flip
• Marionette lines
• Neck platysma bands/necklace lines
• Pebble chin
• Hyperhidrosis (excessive sweating)
• TMJ (temporomandibular joint disorder)
Botox Cosmetic Procedure and Results
Botox cosmetic procedures are quick and effective. The first step in your procedure will be to come to see our expert team at Radiance Medical Aesthetics. During this consultation, we will listen to your needs and provide the best treatment plan to satisfy those needs.
After that first consultation, you will come in for treatment. This procedure is conducted using ultra-fine needles to inject the neurotoxin into the treatment area. Botox injections are timely and require no downtime for recovery. This means that you can carry on with your life as soon as treatment is done. Better yet, the results are long-lasting and quick to appear.
It can take up to two weeks for neurotoxin results to show. The good news is that Botox treatment generally lasts for three to four months, on average.
What Should I Expect After Botox Treatment?
While no downtime is required for Botox treatment recovery, we do recommend avoiding strenuous activities for 24 hours after treatment. We also advise that you not lie down for 4-6 hours after treatment. If you can, you should also sleep with your head elevated and avoid touching your treatment areas. This could cause the neurotoxin to spread to other areas near the treatment area. After Botox treatment, sometimes the treatment area can become swollen, bruised, or red for two to three days. This is normal and shouldn't be a cause for concern.
Following your treatment, you can always
call our office
and our professional team can answer any questions or concerns you have.
Contact Us Today in Oklahoma City
Whether you are looking to turn back the hands of time or are battling a medical condition, Botox can often help. Radiance Medical Aesthetics is the premier
Botox provider in the Oklahoma City
area. For more information on
Aesthetician Services
, contact us or book a consultation to begin your Botox journey.
Contact Us
Radiance Medical Aesthetics of Oklahoma
Monday: 8:00 AM – 5:00 PM
Tuesday: 10:00 AM – 7:00 PM
Wednesday: 8:00 AM – 5:00 PM
Thursday: 8:00 AM – 5:00 PM
Friday: 8:00 AM – 5:00 PM
3rd Saturday of the Month: 9:00 AM – 1:00 PM