Daxxify Treatment in Oklahoma City
We Specialize in Botox Alternatives
If you're looking for advanced skincare treatments that can give you youthful and glowing skin, look no further than Radiance Medical Aesthetics of Oklahoma. We're proud to offer a range of medical aesthetics services to our clients, the new long lasting neurotoxin, Daxxify.. Our team of licensed professionals uses state-of-the-art technology and cutting-edge techniques to provide you with the highest quality care possible. If you're ready to rejuvenate your skin and boost your confidence, schedule an appointment with us today.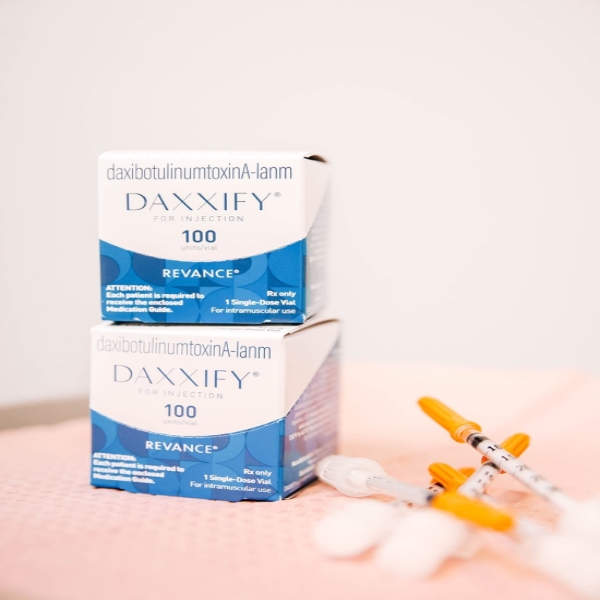 While both products contain Botulinum toxin type A, their formulas and other ingredients differ. Daxxify employs a peptide, whereas Botox uses human albumin as a stabilizer. Daxxify and Botox also differ with regard to the duration of their effects. Daxxify lasts longer, with results that can last up to six months, while Botox typically lasts for three to four months. Choosing the best one for you depends on your unique needs, goals, and preferences. During your one-on-one consultation, our experienced providers will discuss the benefits and drawbacks of each neurotoxin to help you determine the best option for you.
One of the most significant benefits of using Daxxify is that it has been shown to have increased longevity compared to other neuromodulators. This means that the effects of the treatment last longer, so patients can enjoy smoother skin for a longer period of time before needing to have another treatment. Another benefit of Daxxify is that it does not contain human or animal products, which makes it less likely to cause allergic reactions in patients. This is especially important for patients who may have sensitivities or allergies to certain ingredients commonly found in other neuromodulators.
Daxxify Treatment Process
We will provide you with a thorough facial assessment to determine the appropriate injection site and dosage for your specific needs. We will administer the formula directly into the targeted area using a small needle. The entire procedure typically takes around 5 to 15 minutes, and you can resume your daily routine immediately afterward. N You will want to avoid strenuous activity or exercise for 24 hours.
Daxxify Side Effects & Results
Daxxify is an FDA-approved prescription medication for adult use that has been shown to be effective in treating wrinkles. It is administered through injection into the muscles and is designed to temporarily improve the appearance of moderate to severe frown lines between the eyebrows, also known as glabellar lines. Daxxify also improves forehead lines and crows feet. Some of the most frequently observed side effects associated with Daxxify injections include headaches, temporary loss of muscle movement in the facial area, and eyelid drooping.
Contact Radiance Medical Aesthetics of Oklahoma
Radiance Medical Aesthetics of Oklahoma is a premier medical spa that specializes in providing exceptional daily treatment services to help our clients attain their desired aesthetic goals. Our team of highly skilled and experienced professionals is passionate about making our clients look and feel their best. We believe everyone deserves to have radiant, healthy, and youthful-looking skin, which is why we offer a variety of treatments tailored to suit your needs. Whether you're looking to reduce the signs of aging, improve the texture and tone of your skin, or give your skin a healthy glow, we're here to help. Contact us today to schedule a consultation and let us help you bring out the radiance in your skin!
Contact Us
Radiance Medical Aesthetics of Oklahoma
Monday: 8:00 AM – 5:00 PM
Tuesday: 10:00 AM – 7:00 PM
Wednesday: 8:00 AM – 5:00 PM
Thursday: 8:00 AM – 5:00 PM
Friday: 8:00 AM – 5:00 PM
3rd Saturday of the Month: 9:00 AM – 1:00 PM