Perfect Derma Peels in Oklahoma City
Skin Rejuvenation
Unlock Your Radiance with Our Chemical Peel Services
Radiance Medical Aesthetics of Oklahoma is proud to offer our clients the Perfect Derma Peel, an innovative and effective solution for achieving smoother, brighter, and more youthful-looking skin. This safe and non-invasive treatment can help address a wide range of skin concerns, from acne and hyperpigmentation to fine lines and wrinkles. Our licensed and experienced providers use the latest techniques and high-quality products to deliver the best results possible. If you're ready to take the first step towards achieving healthy, radiant skin, schedule an appointment with us today.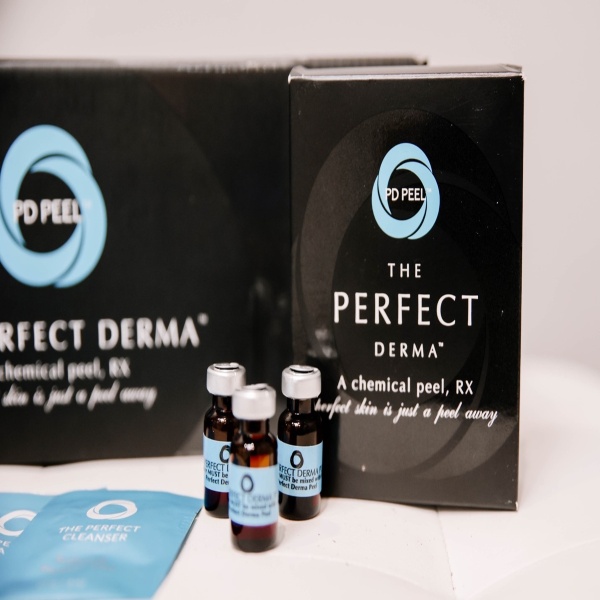 What Is Perfect Derma Peel?
The Perfect Derma Peel has been recognized by ABC News as one of the top three anti-aging products that can provide healthy, ageless skin regardless of skin type. This peel utilizes a blend of antioxidants and acids that are safe and effective in addressing several skin issues, such as hyperpigmentation, sun damage, acne, and uneven skin texture. This treatment requires minimal downtime, and results can be seen as early as one week, making it an excellent option for individuals preparing for significant events such as weddings or vacations.
Results and Benefits of Perfect Derma Peel
The Perfect Derma Peel is a powerful anti-aging treatment that can deliver younger-looking and healthier skin for all skin types. The top Perfect Derma Peel benefits include:
●Reduces hyperpigmentation
● Controls acne scars
● Boosts collagen and elastin
● Softens fine lines and wrinkles
● Corrects sun damage
● Improves tone and texture
How Long Do Perfect Derma Peel Results Last?
Proper aftercare is crucial to maintaining the results of any treatment. We offer home care kits that are specifically designed to complement the Perfect Derma Peel and help prolong the results of your treatment. When used as directed and combined with proper post-care instructions, these kits can help keep your skin looking healthy and vibrant for months to come. In addition to our home care kits, our team of experienced providers will provide personalized recommendations on additional treatments that can further enhance the benefits of the Perfect Derma Peel. During your consultation, we will work closely with you to create a customized treatment plan that is tailored to your unique needs and goals. We believe that every patient deserves personalized care and attention, and we are committed to providing you with the best possible treatment experience.
Is the Treatment Painful?
Patients may experience a slight tingling or stinging sensation after the application of the Perfect Derma Peel, but this sensation will fade within 30-60 seconds once the numbing agent takes effect. The entire application process takes no more than 30 minutes, with the peel itself taking only 15 minutes to apply. Following the procedure, you may notice redness or darkening of the skin, which is a normal response to the active ingredients in the peel. Peeling typically begins on the third day after treatment and lasts for approximately one week. While it is possible to return to normal activities after the peel, it is recommended to avoid heavy exercise, saunas, hot tubs, and pools during the first week. Additionally, it is best to wait at least 24 hours before applying makeup.
Perfect Derma Peel in Oklahoma City
At
Radiance Medical Aesthetics of Oklahoma
, we're committed to helping our clients look and feel their best. Our Perfect Derma Peel services are just one of the many ways we can help you achieve your aesthetic goals. With our state-of-the-art technology and highly trained staff, you can be sure that you're getting the highest quality care and the best possible results. If you're ready to reveal the true radiance of your skin,
schedule an appointment with us today
and let us help you achieve the healthy, youthful-looking skin you deserve.
Contact Us
Radiance Medical Aesthetics of Oklahoma
Monday: 8:00 AM – 5:00 PM
Tuesday: 10:00 AM – 7:00 PM
Wednesday: 8:00 AM – 5:00 PM
Thursday: 8:00 AM – 5:00 PM
Friday: 8:00 AM – 5:00 PM
3rd Saturday of the Month: 9:00 AM – 1:00 PM