Skin Rejuvenation
Minimally Invasive Nonsurgical Thread
Discover MINT (minimally invasive nonsurgical thread) which is a unique absorbable suture designed to approximate and fixate sagging tissues. The thread is made out of a complex sugar polydioxanone or PDO – a safe dissolvable suture material that has been used in orthopedic and cardiovascular surgeries for over 30 years.
Aging is inevitable. We all know that prevention is the best way to maintain your skin's firmness and elasticity, but if you're already experiencing the effects of aging MINT is the latest FDA-approved solution to sagging skin that also stimulates collagen production.There are tiny barbs strategically placed and molded all around the thread. Once the threads are placed into the skin, the barbs anchor onto sagging tissue and open up like an umbrella to form a support structure that lifts and repositions the sagging tissue. PDO threads have rapidly become a popular minimally invasive alternative to surgical facelift procedures. This revolutionary technology allows instant yet profound results while minimizing pain and trauma – allowing patients to benefit from a shorter recovery time. Threads are a great option for those looking to tighten and lift the brows, mid-face area, and neck.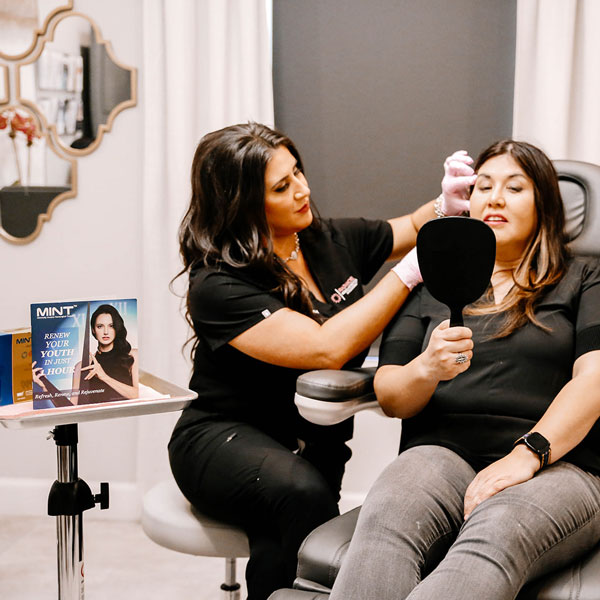 What Are the Benefits of MINT?
Mint is compatible with many other procedures, so you can take advantage of all the best things each treatment has to offer for synergistic effects. Target wrinkles with neuromodulators, restore volume with dermal fillers, address skin texture and age spots with laser treatments, and lift sagging skin with Mint.
To learn more about MINT PDO thread lifts or to find out if you are a candidate, please contact us to schedule a consultation with a member of our highly-trained clinical staff. We look forward to meeting you and would love to answer any questions you might have.
Contact Us
Radiance Medical Aesthetics of Oklahoma
Monday: 8:00 AM – 5:00 PM
Tuesday: 10:00 AM – 7:00 PM
Wednesday: 8:00 AM – 5:00 PM
Thursday: 8:00 AM – 5:00 PM
Friday: 8:00 AM – 5:00 PM
3rd Saturday of the Month: 9:00 AM – 1:00 PM