Fraxel Dual Laser Resurfacing
Skin Rejuvenation
Fraxel Dual Laser Resurfacing Oklahoma City
Laser resurfacing works with your skin to promote the growth of new cells while also triggering the repair of current ones. This allows you to improve the skin you have while encouraging the growth of healthier skin. Laser resurfacing also encourages your skin to shed any cells that are too damaged for repair. This treatment targets precise treatment areas, leaving the surrounding skin untouched. You're able to rejuvenate the skin that can be improved while generating new skin for areas that cannot.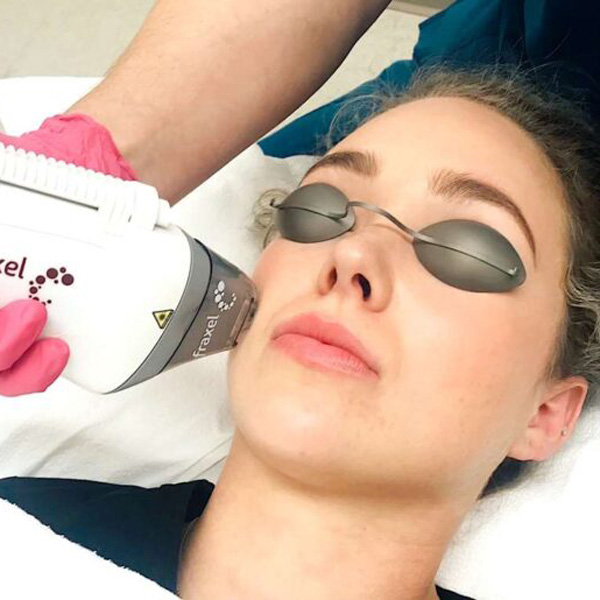 What Is Fraxel Dual Laser Resurfacing?
Fraxel Dual Laser Resurfacing uses lasers to penetrate and expedite the natural remodeling of collagen in your skin. Fraxel Dual targets aging and sun-damaged skin with microscopic laser columns. These lasers penetrate deep into your skin, encouraging your body's remodeling of collagen.
It is a very precise and intensive procedure that focuses on specific areas, which means that the surrounding tissue is left untouched and helps promote rapid healing. The treatment integrates cooling, so it is not painful. A single treatment means younger-looking skin and a difference that you can feel. You are, in essence, producing newer, healthier skin from the inside out.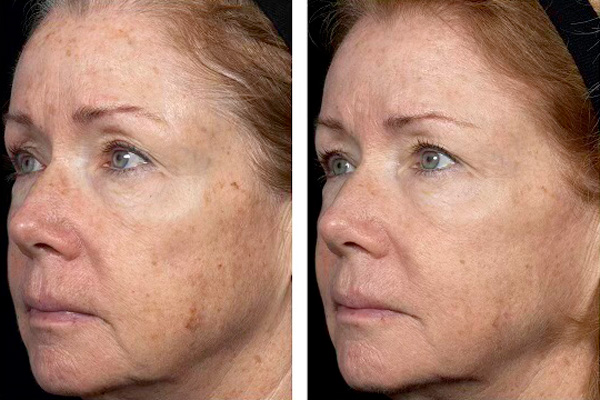 Before and After Treatment
What Is Fraxel Dual Designed to Treat?
Fine lines, crow's feet, and wrinkles
Acne scars and other scarring
Pigmentation, dark freckles, and age spots
Sun-damaged skin
Actinic Keratosis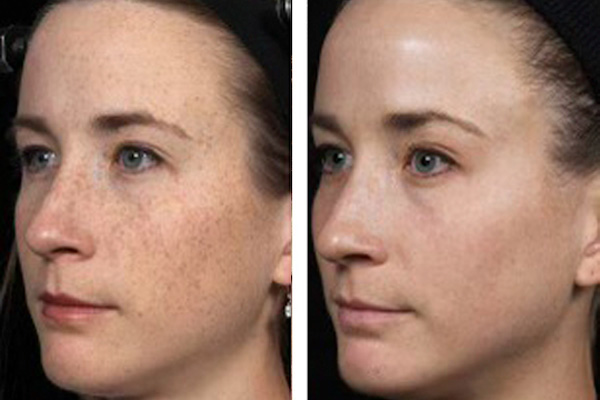 Before and After Treatment
Is Fraxel Dual Laser Resurfacing for Me?
Whether you want to fight signs of aging in your skin or improve its overall condition, resurfacing offers significant benefits and a noticeable difference in your skin. This treatment is effective on all skin types and tones in a single session, with minimal downtime, and without pain. Fraxel Dual is non-invasive. No incisions or needles are required. Fraxel Dual Laser Resurfacing improves the tone and texture of your skin, renewing and encouraging a smoother, tighter feel.
Following your treatment, it will be important to protect your skin. Many patients feel as if they have a sunburn, which usually diminishes within three hours. Avoid sun exposure for a minimum of three months. You'll also want to use a broad-spectrum sunscreen of SPF 30 or higher. Also, it's wise to avoid direct sun exposure for at least 3 months after your last treatment and wear a wide-brimmed hat when you plan to be outside.
Having problematic skin doesn't have to be permanent. Tired-looking, aging skin can be revitalized and refreshed. It's important to receive guidance and treatment from experienced professionals who can customize a plan for your specific needs. Medical Aesthetics of Oklahoma is ready to help you find the path to the skin you want.  No matter your goals or your problems, there is a solution for you. The sooner you call, the sooner you can get the radiant, youthful skin you want!
Contact Us
Radiance Medical Aesthetics of Oklahoma
Monday: 8:00 AM – 5:00 PM
Tuesday: 10:00 AM – 7:00 PM
Wednesday: 8:00 AM – 5:00 PM
Thursday: 8:00 AM – 5:00 PM
Friday: 8:00 AM – 5:00 PM
3rd Saturday of the Month: 9:00 AM – 1:00 PM